Halifax biotech company developing safe, cutting-edge products to ease chronic pain, inflammation July 11, 2019 – Halifax, NS – Atlantic Canada Opportunities Agency Innovative new treatments for pain management improve the daily lives of Canadians. Panag Pharma Inc....

Congratulations to the researchers who received funding for their health research as this fuels the pipeline for health innovation. https://t.co/N0BvjIxEdM
AGADA Biosciences is hiring a full-time Research Associate position. You could work for a growing and innovative company that's been awarded Best Youth Employer. https://t.co/z2zoBtDkHb Apply today! #NSJOBS #HFXJOBS #LifeSciences https://t.co/gly8jmQ97Z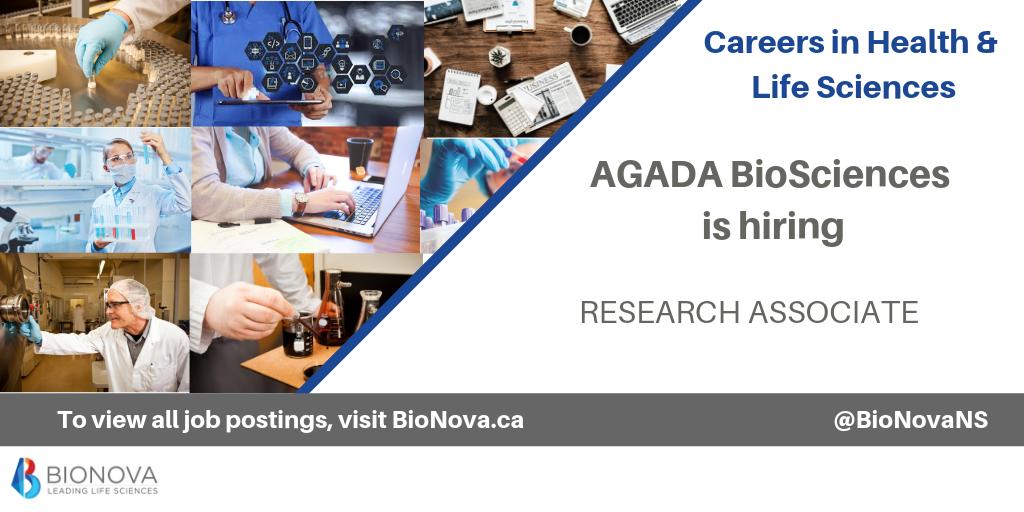 Our mandate is to:
LEAD the development of Health and Life Science in Nova Scotia
ACCELERATE companies and the business ecosystem
ADVOCATE for the sector and growth of Nova Scotia's BioEconomy
Medical Technologies
Digital Health
Pharmaceuticals & Vaccines
Natural Health Products
BioProducts
Please visit our Sector Strengths page to learn more.
OUR ACCELERATION INITIATIVES
BioNova aims to accelerate the innovation and productivity of businesses in Nova Scotia's bioeconomy through our Projects, Programs, Services & Events with the support of our stakeholders and funding partners.